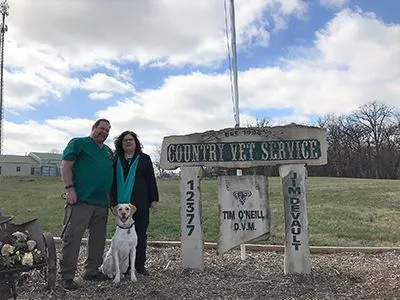 Tim grew up a Kansas farm boy helping his folks raise wheat and cows. He graduated from Kansas State Veterinary School in 1987.
Tim has been in practice for 34 years, with 31 of those years in Arkansas. He's been married to Kim for 45 years, and they have two children: son Kelly and daughter Brandee – both of whom are graduates of the University of Arkansas.
Tim's hobbies include fishing, attending rodeos, telling stories and jokes.
He loves his job and most of all he loves being a Vet – something he always wanted to be. Tim loves all animals. His favorite part of the job is birthing calves or puppies every spring and working with the kids in 4H and FFA.
He also enjoys working very hard surgically on a case and having it recover and do well throughout the healing.
Tim's best friend is Sammy, his 6-year-old yellow lab, who greets him every morning him at 5:30 every morning, and has a great work ethic.
Because of the friends he has made and the animals he has helped, Tim would not trade his life as a Vet for anything. Every day he gets to do the job he always wanted and loves every minute of it.
Send us an appointment request or an email to [email protected]