Dogs
Annual comprehensive physical examinations (Wellness and Puppy Packages)
Nutrition and dietary consultation including weight loss and geriatric
Annual vaccinations or boosters (Rabies, Distemper-Parvo, Bordetella
Flea and tick prevention and treatment
Low cost spaying and neutering
We offer Puppy Packages at different levels to start your new puppy off right. Including office visits, comprehensive physical examinations, Distemper-Parvo-Corona vaccinations and de-wormings and more.
Full service surgery and dentistry, X-ray, EKG, in-house blood testing and digital ultrasound diagnostic imaging.
Wellness programs for adults
Stem Cell and Platelet Rich Plasma Therapies
---
Cats
Annual comprehensive physical examinations (Wellness and Kitten Packages)
Nutrition and dietary consultation including weight loss, geriatric and Feline Urologic Syndrome.(Our Staff are Certified Weight Coach's)
Annual vaccinations or boosters (Rabies, Distemper,
Flea and tick prevention and treatment
Feline leukemia and Feline Immunodeficiency Virus testing
Low cost spaying and neutering
Full service surgery and dentistry, X-ray, EKG, in-house blood testing and digital ultrasound diagnostic imaging.
Annual vaccination clinic offered in April each year with the local humane society.
Wellness programs for adults.
---
Horses
Annual wellness exams and soundness exams, including lameness and mobility
Coggins testing, with clinics offered in March each year. Our staff members are all certified EIA verifiers
Annual vaccinations including Sleeping Sickness, Tetanus, West Nile Virus, Rhino, Flu, Strangles or Distemper with vaccination certification for each horse
Complete comprehensive equine dentistry, examination and treatment
Nutritional and dietary consultation
Parasite prevention and treatment
Digital Ultrasound Diagnostic Imaging, X-ray and in-house blood testing
Castration and emergency surgery, including wound management
Stem Cell and Platelet Rich Plasma therapy
---
Cattle
Reproduction, including ultrasound (pregnancy checks, semen testing, pelvic measurements, OB assistance and complete reproductive evaluations)
Herd health consultation and management, including nutrition, disease prevention, reproduction and overall profitability of the herd
In-house hydraulic tilt chute for complete hoof care
Brucellosis or calf-hood vaccinations and testing, TB testing and health papers for interstate shipment
Full-service surgery, X-ray, diagnostic digital ultrasound imaging in-house blood testing and bacteriology lab
Surgeries include show-quality cosmetic de-horns, emergency C-sections, DA or twisted stomach surgeries and fracture fixations
---
Swine
Herd health consultation and management, including nutrition, reproduction and disease prevention
Full-service surgery, hernia repair, castration and C-sections
Bleeding for psuedorabies and brucellosis for herd certification and health papers for interstate transportation and shows,
We also provide full-service care for pot-bellied pigs and micro pigs.
---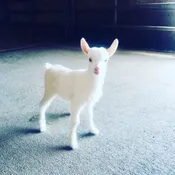 Goats and Sheeps
Herd health consultation and management, including nutrition, reproduction
and disease prevention
Parasite management including FAMANCHA training
Overeaters and Tetanus vaccinations
Full-service surgery: cosmetic tail-docking, disbudding and de-horning, emergency C-section and urinary calculi in males
Health papers for interstate shipment
In-house bacteriology lab for culture and sensitivity for milk and other samples, Diagnostic Digital Ultrasound Imaging, In-house blood testing Lab and diagnostic testing